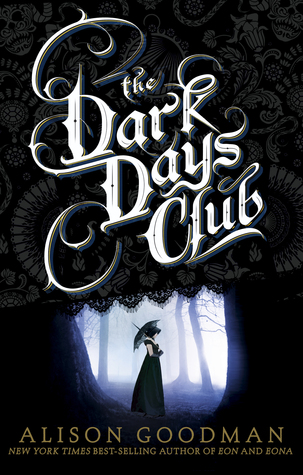 London, April 1812. On the eve of eighteen-year-old Lady Helen Wrexhall's presentation to the queen, one of her family's housemaids disappears-and Helen is drawn into the shadows of Regency London. There, she meets Lord Carlston, one of the few who can stop the perpetrators: a cabal of demons infiltrating every level of society. Dare she ask for his help, when his reputation is almost as black as his lingering eyes? And will her intelligence and headstrong curiosity wind up leading them into a death trap?
I mentioned in a
post
a few days ago that me and my friend have started a book club and we finally named it! As we will be buddy reading all these books it shall hence forth be known as Buddy Books!
This months Buddy Book was The Dark Days Club, here's what I thought -
I really enjoyed this book, it seemed to have been researched amazingly well, both the expectations of society in the 1800's and the geography and understanding of London itself seemed very accurate and honest.
There was lot's of intrigue and unanswered questions as Lady Helen tries to unravel her family's past which left me wanting to find out more. She is relatable in that she is flawed, she doesn't necessarily follow the same beliefs as those around her, she makes mistakes and is unsure as to who she is supposed to be. Having said that she does always want to do what she believes is the right thing not just for herself but for those she cares for.
There were a number of characters I enjoyed reading about and following through their developments as there were surprises for them all. My personal favourites have to be Darcy and Lord Carlston.
The only negative I could say about this book was that it very much felt like the first book in a series. The whole book was build up which isn't necessarily a bad thing but occasionally I found myself wanting a little more action, learning more about Lady Helen's parents and experience the Dark Days Clubs adventures further. I will definitely read the rest of this series though as I can't wait to see what Lady Helen and Lord Carlston get up to next.
Lady Helen is strong, brave and kind. Lord Calrston is dark, mysterious and at times very intense.
There's humour, mystery, 19th century balls and a little bit of swoony romance. What's not to like about that?
I gave it 3 out of 5 stars on goodreads but have a feeling any future books will be higher. Let me know if you've read this and what you thought.
The Buddy Book for March will be Ready Player One by Ernest Cline - please read along with us if you're interested!
x